College Bound Essentials – April 27
April 27, 2019 @ 9:00 am

-

12:00 pm

$75.00
Where
Lake Wylie Christian Assembly- Youth Building
5766 Charlotte Highway
Lake Wylie, SC 29710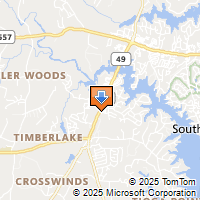 Driving Directions
College Bound Essentials-April 27th
Just as the name implies, this workshop is an essential session for any college-bound student who wants to get their best admission opportunities and secure the highest scholarship offers possible.  Parents are welcome to come along at no extra charge. 
Students attending this session will receive a comprehensive, hardcover College Success Workbook to guide them through all aspects of college preparation.
Where?   This session will take place at Lake Wylie Christian Assembly, in the Youth Bldg in back (pictured below) Students will be seated up front, at tables, with me.  Parents will be around sides and back.  Having the students up front equips them with more engagement and ownership of what lies ahead!
Who should come?  8th-11th graders will absolutely benefit from this workshop. This information is most helpful when students and parents can learn it sooner than later so that they have more time to act on it before the senior year. There is a separate set of workshops for seniors.
What will we learn?  This class will give students and parents valuable information on how to make the decisions throughout high school that will result in maximum admission offers and scholarship money.  (Mrs. Hartley's own children have ended up with extremely affordable educations at Dartmouth, Duke, Yale, Michigan State, and Honors College of Charleston.)
Specifically, the class will:
 

Teach students how to get full ride offers to over 200 schools with just one test

 

How to build a transcript that will result in the best admission offers

 

How to go to Harvard, Yale, Princeton, Stanford, Brown, MIT and more for FREE (really)

 

Teach them how to find their best college fits- public vs private, faith-based vs secular, etc.

 

Cover basic interview skills

 

Teach students how to tour and evaluate a college as it relates to the student's interests

 

Identify the best and least expensive ways to increase SAT and ACT scores

 

Encourage them to take "ownership" of this next stage in their lives, to be proactive, organized and serious about this decision and help them strategize a game plan to get their best results!
The price of $75 applies to each student attending but parents are encouraged to attend at no extra charge.  When registering, only enroll the student, not the parent. (But do input the parent's email address.)  Extra students can be registered at the same time for the same price by listing them as Guests.
Who is Elizabeth Hartley?  Elizabeth Hartley (consultant, author, scholarship judge, columnist and owner of Scholarship Gold Consulting near Charlotte, NC) works internationally with public schools, private schools, homeschool associations and private clients in all elements of preparing for college.  Scholarships paid for Ms. Hartley's own undergraduate and law school education as well as adventures tracking humpback whales in Hawaii and a year in Europe.  And now, her own children have garnered over $1 million in scholarship funds and attend Yale, Dartmouth, Duke, Michigan State, and the Honors College of Charleston.
Now, as a judge and administrator for 9 different scholarships, she gladly shares the secrets to securing the best admission opportunities and most competitive scholarships.  She is also a frequent expert consultant for NBC and Forbes. For more information, visit www.ScholarshipGold.com.
NOTE!  When you register by clicking on the button below, if you do NOT get a confirmationmessage and email, please notify [email protected] and one of our staff will insure that your registration went through.  Sometimes an issue with browsers and cookies causes a registration to not "stick". Tech support is working on this.  Thanks